Ref:
Date:
Location:
Photographer:
Ref:
Date:
Location:
Photographer:
Gleichzeitig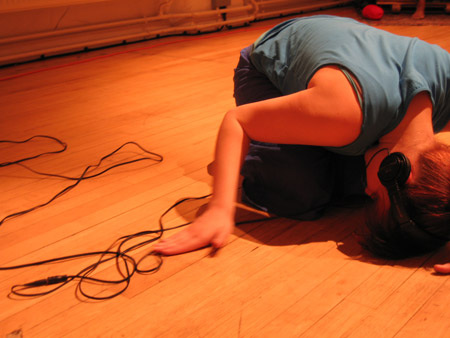 01/05/07
Kathinka Walter trained at the Northern School of Contemporary Dance in Leeds/U.K. and graduated in 2001. On completing her degree she went to Berlin/Germany to work choreographing her own pieces and collaborating with, amongst others, with Felix Rückert, Howard Katz Fireheart and Post Theater. She returned to England in September 2003 to take up the post of choreographer in residence at the Northern School of Contemporary Dance where she also taught choreography. From September 2004 to June 2007 she was doing the MA (PT) in choreography at the London School of Contemporary Dance and specialized on interdisciplinary projects, which she is performing in England and abroad.
In 2005 she founded the company Foot and Mouth with the musician Richard Ormrod. Their debut piece Noises for the Leg received a very positive feedback and the artists are teaching regular workshops about their collaborative work to musicians and dancers.
"They are a sextet who produce an audio-visual spectacle of exciting physicality."
(Karl Dallas)
Her new work "gleichzeitig" (2007) is a performance installation and again a collaborative work, this time with the printmaker Hester Cox and the video artist Philippa Thomas. The premier of this work was in May at The Place (London) and further performances are planned for England and Germany (see website for further information).
From August 2007 onwards, Kathinka will be based in Leeds and Berlin to develop her work further and to be able to work with artists from both cities.
http://www.myspace.com/kathinkawalter